The Political Economy of Crisis and the Crisis of Political Economy: The Challenge of Sustainability
Graham Murdock

Loughborough University
Keywords:
political economy of communications
Abstract
This tripleC-contribution is a podcast of a talk Graham Murdock gave in the Communication and Media Research Institute's (
CAMRI
) Research Seminar Series at the University of Westminster on October 15, 2015.
Abstract
Recent developments in the organisation of capitalism have given renewed urgency to critical political economy's core concern with the shifting relations between capital, state and civil society and placed issues around communications and culture at the centre of debate. Successive responses to the crisis of capitalism in the 1970s and the 2008 financial crisis have extended marketization, consolidated corporate control over public culture, displaced and casualised labour, escalated product promotion, placed consumption fuelled by personal debt at the centre of models of growth, and generated rapidly widening inequalities in access and agency.
At the same time, the political instabilities following the end of the Cold War have licenced a move from selective to saturation surveillance that has given the major capitalist states unprecedented entry into intimate life. The critical political economy culture and communications has seized the moment and produced powerful accounts and critiques of these shifts and their implications for democratic life. The first part of the paper offers a critical overview of this work.
With some notable exceptions however, critical political economies of communications have not fully incorporated the climate crisis into their analyses. Yet communication systems, particularly digital systems, are central to the unfolding climate crisis, not simply as central spaces of public information (and misinformation) and debate, but as arrays of infrastructures and machines that consume resources and power and foster patterns of use and disposal that exacerbate problems of waste and pollution and reinforce patterns of inequality, with those least able to cope likely to be the most affected. The second part of the paper expands on this argument
The third and final part follows the implications of this analysis through arguing that critical communications policy not only needs to address the problem of curbing corporate and state abuses of control and renew the project of building a non-marketised public communications system, it also needs to ensure that its interventions mitigate rather than exacerbate the problem of climate instability and address social inequalities. The challenge is to develop models and practices that can sustain both social and environmental sustainability.

About the Speaker
Graham Murdock is Professor of Culture and Economy at Loughborough University. He has been a pioneer in the study of the political economy of media and culture. His recent publications include co-editorship of Money Talks: Media, Markets, Crisis (2015), The Handbook of Political Economy of Communication (2011), The Idea of the Public Sphere (2010), Digital Dynamics: Engagements and Discontinuities (2010).

Cover image:
By Alex Proimos from Sydney, Australia (E-Waste Recycling  Uploaded by russavia) [CC BY 2.0 (http://creativecommons.org/licenses/by/2.0)], via Wikimedia Commons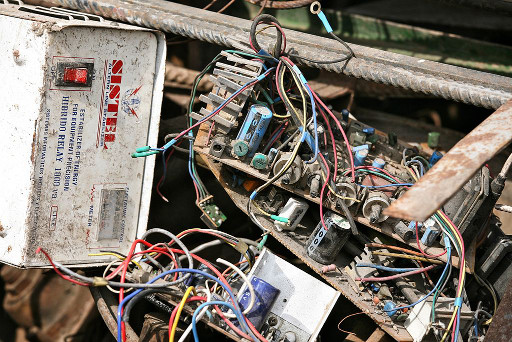 Section
Reflections (Non Peer-Reviewed)